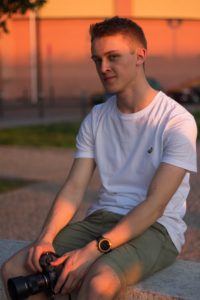 SOFTWARE DEVELOPER
MAINZ, GERMANY
Twitter: @torbenwetter
---
Torben is looking forward to leaving school finally after 13 years and then following his dreams. Well, so now we are curious, what are his dreams? He wants to use his vast technical knowledge to change the world for the better. Developing software for the web and mobile devices is his playground. In his spare time Torben is a drone pilot. He loves photography and traveling through Scandinavia. According to Torben, we should never lose a second without music.
Kalvebod Bølge, Copenhagen
On this photo you can see a beautiful footbridge for pedestrians and cyclists in Copenhagen, Danmark. With its location right next to office buildings, for me this multifunctional bridge stands for the work-life balance of the Danes. Each time we stopped by, people were jogging along or taking a break on one of the benches. At the back (the orange spot) you can also see a little "workout to go" facility. With the help of an app one can open a box containing a variety of fitness equipment. Unbelievable in my opinion to have such a great and free service in Germany; not only because of the digitization, but also I ask myself: "How long would this box including the content stay undamaged in a German city?"
Sky Stadium in Wellington, New Zealand
During my semester abroad in New Zealand, it was a must to watch a rugby game with my newfound New Zealand friends. The "All Blacks" are one of the best rugby teams in the world and therefore the game against the French national team "Le XV de France" was on a very high level. A quick briefing before the game was enough – everything else became more or less clear to me as the game progressed. In any case, I hadn't been promised too much: in this stadium there was an unbelievably strong bond among the fans. While in a German soccer stadium, people usually complain about their team's mistakes, here they were happy about tactically clever decisions and regretted unsuccessful approaches with a huge cheering for the next one to succeed!!
Subway station "HafenCity Universität", Hamburg
The city of Hamburg in Germany really does have many beautiful spots! A place that may not be so well known yet, but is still worth seeing is this station of the U4 underground line. It is located within the recently built "HafenCity" and is characterized by its light installation "
U4 – Light and Sound
". During daytime on weekends and holidays, every full hour, the spectacle begins: classical pieces by Bach and Verdi resound in enchanting sound and the 12 light elements begin to change color to match the music. I have taken the U4 several times just for this. Apart from me, the station also attracts many other photographers who use the lights for their photos!